So every now and then I make something that turns out to be perfect for "me". Oops. ;-)
Must remind myself: I run a business which means I can't keep what I make but must sell it to make a profit if I am to stay in business. It's a dilemma artists face-- getting attached to their art and not wanting to give it up.
I recently created this "Turquoise Wire Wrapped Necklace" using a vintage chevron bead and a Gold Filled filigree tear drop pendant. I am very happy with how it turned out as it took quite a few hours to wire wrap each stone. I love the color of the robins egg blue turquoise beads. If I were to keep it, I would wear it with my long gold filigree chain necklace and another turquoise necklace. I LOVE layered chain necklaces.
Turquoise and Gold Necklace with Hand Wire Wrapped Stones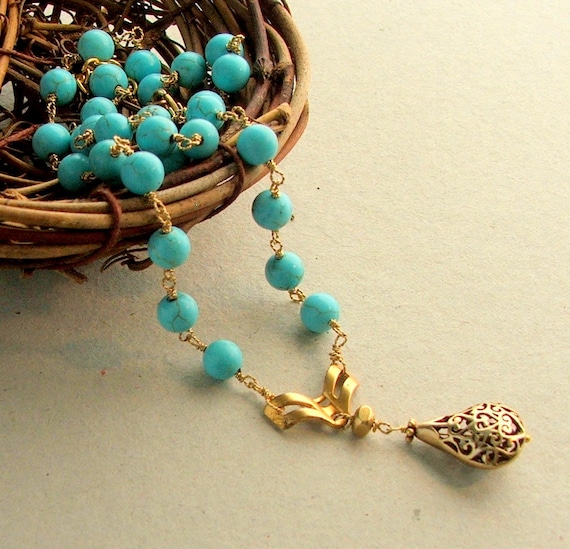 The second necklace I don't want to sell (wink wink) is this long Garnet Wire Wrapped Necklace with a Labradorite Pendant and dangling gold leaf chain. I love the special feature of this stone--the flash of color-- otherwise known as the "Schiller Effect". According to Asterope Bead Creations, as a labradorite forms into a crystal, the composition of calcium and sodium varies. The changes in composition form layers inside the labradorite crystals. The layers inside the crystal affect light as it travels through the crystal. If you look at the layer from the right angle, you see the Schiller effect – the flash of color. In the labradorite pendant I've used, the flash is brilliant. I used garnet along side the labradorite as both colors are fairly neutral and I wanted to create a special necklace that was versatile.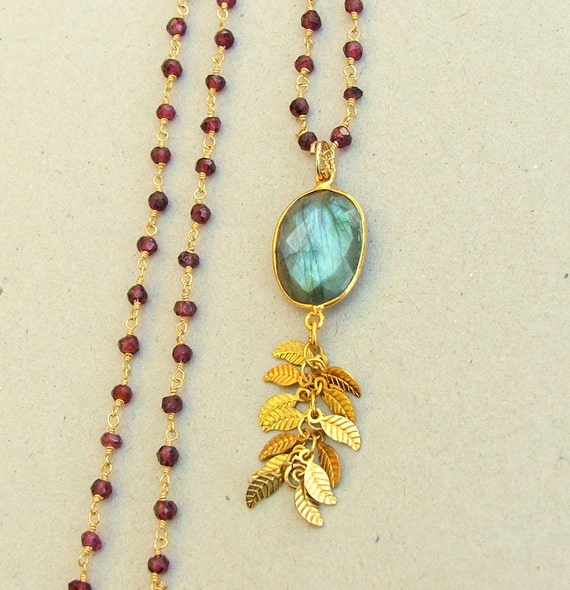 Last item from my shop that I don't want to sell is this ornate Turquoise and Gold Ring. I am enamored with the setting and the color of the turquoise.