April 9, 2013

9am
I'm up and out of bed.
(Wish I was one who could pop out of bed at 7am...
but I have resigned to the fact that I am a night owl and accomplish the most in the evening)..
Get Dressed: Because I have
full intention of working out
at some point today, I put on my leggings, running shoes and t-shirt. My thinking is that
I have no excuse Not To Exercise
if I'm already dressed in my workout clothes. Surely I can squeeze in a workout at some point today.....
Run downstairs to take the "doggies"--as we call them--out of their crib where they sleep at night and out to go potty. While I'm waiting for them, I make a pot of
Peets coffee
with my French Press coffee maker. Top it off with
So Delicious Coconut Creamer
. :D
Feed the cats and dogs..A quick breakfast of scrambled eggs for me and now it's time to sit down and enjoy my hot coffee and answer emails.
10:15am
Head back upstairs to wrap up the "
Orange Turquoise Wire Wrapped Pendant Necklace
" for my customer Beth, a wonderful repeat customer.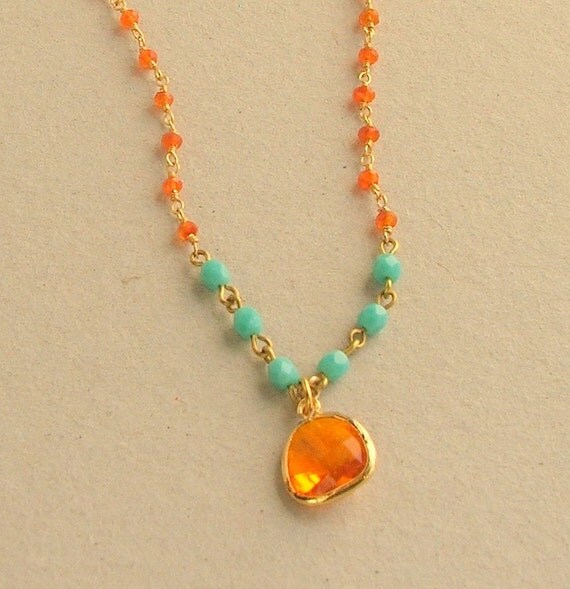 Next: make an extension chain for her so she can lengthen any of her gold necklaces. I love the chain I used because of the wide rings; it will be easy to clasp at any length. However, I was unhappy that the gold filled clasp I used seem to clash with the gold filled chain. This was odd as they are both gold filled. I ended up replacing the clasp after I took these pictures.
I believe everyone should own one of these "adjustable chain extenders" -- one in gold and one in silver. It makes it soooo much easier to layer your necklaces when you can adjust the lengths. A simple piece but it makes putting on jewelry so much easier when you are wearing more than one necklace. An adjustable chain attached to your necklace allows you to get just the right length.
12:00 pm
Run downstairs to let the doggies out. Make myself a tall glass of lemon water: Spring water with half a lemon squeezed into it. I find it energizing and refreshing. Plus it's good for balancing your ph. Grab a hand full of raw almonds (lunch). Check email. Good thing I did as a woman was inquiring about my
Long Sterling Silver Filigree Chain Necklace
for her wedding.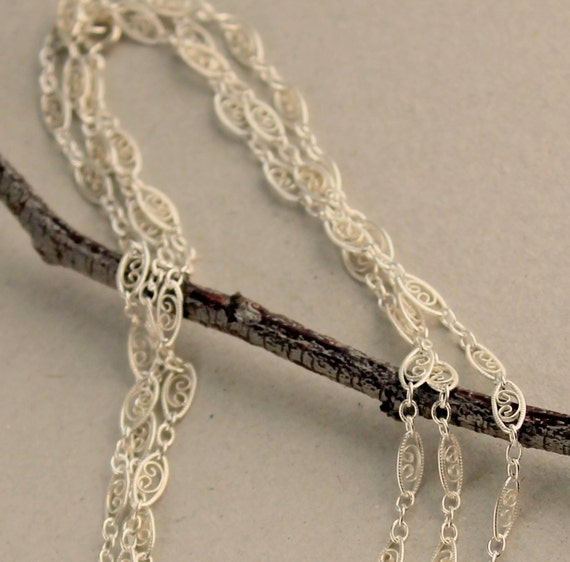 She had gone through 26 pages on Etsy before she found what she was looking for! I immediately emailed her back to answer her questions. A few minutes later I saw that she purchased the necklace. Yay! Okay, now I must put aside the jewelry I'm working on knowing that it still must go out in today's mail and order the materials needed to make this Sterling Silver Filigree Chain Necklace. This necklace is for the customer's wedding and I have 2-3 weeks to order and receive the materials, make the necklace and get it shipped to her days before her wedding...
12:40 pm
Okay, finally finished ordering the materials. Now to return to the jewelry that
must be mailed out today.
..I re-examine the
Sterling Silver Earrings with Dangling Citrine stones
that will be sent to a customer in SC...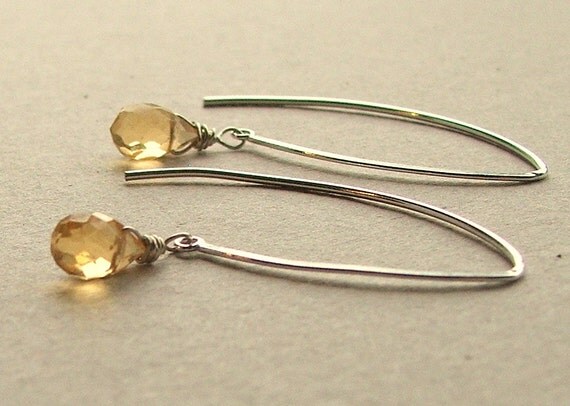 One of the gratifying experiences of selling jewelry online is getting to know people all over the world. Not to mention having people all over the world wear my jewelry. That - thrills - me - to - no - end! I just wish I could meet them all. Even though most of my jewelry are finished pieces, I carefully examine every piece that is sent out, making sure all wires are full wrapped around and not poking out and jump rings are lined up...
Check. The earrings have passed inspection. Now to box them and wrap them up so they are ready to be mailed.
1:30 pm
Next on the Agenda: Finish one of my new favorite necklaces: the
"Long Tassel Pendant Necklace on Vintage Chain

".
Just as I start working on th

e necklace

my boy friend texts to ask me

if I can

pick up his daughter from school. Okayyyyy. I love helping him in any way I can, but
t-o-d-a-y ? ...I throw on some lipstick and I'm out the door.
2:50 pm Clearly I've missed the mail so now I will need to drive downtown to mail the

jewelry

.

...

I return to the "Long Tassel Pendant Necklace on Vintage Chain". I've wire wrapped the pearl and leaf tassel

and...

Wait...I just relisted this

necklace

on Etsy but do I have enough chain in my inventory to make another??? Must stop what I'm doing and check. No, I do not. Back on the computer to get more chain. Okay.

Done. Back to work on necklace.
4:20
pm Perfection! Necklace finished!
I truly love thi
s
necklace. Th

is brass

vintage chain is so unique and is a wonderful contrast to the brass leaf chain. The cream pearl with its soft color and facets adds a touch of warmth and

femininity

to this

necklace. I think I might just have to make one for myself...
BUT -- I discover I

h

ave only one more vintage baro

que

pearl to use! I

'm in a q

uandary: Do I make th

is necklace

for myself and use the last vintage pearl or do I make it and sell it in my

sh

op? Argh

.

Last image: I place a sheer covering over every piece of jewelry I send out as I can't stand the thought of it being rattled around in the envelope as it traverses across the country. The covering

I use helps keep it in place.
4:30 pm I'm out the door, in my car, pedal to the metal rushi

ng to the post office

...Must get there before 5pm pickup

.
4:50 pm
I Made it! Wahoo!... W H A T a

day.
Now the only question that begs an answer...

Next on my list:

exercise?
Or?